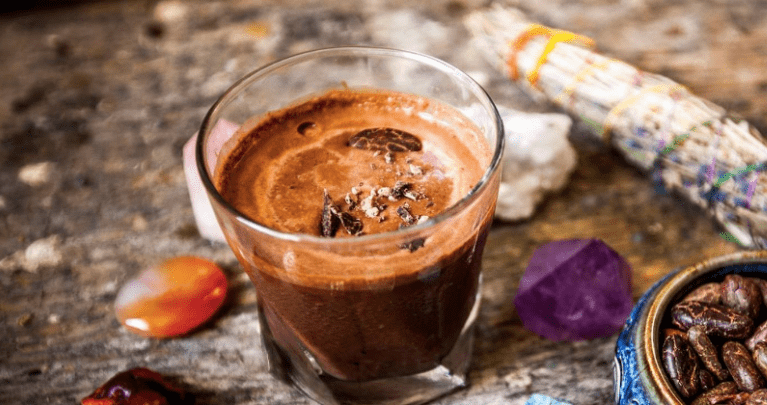 Cacao Ceremony
Cacao Ceremonies are traditionally celebrated in South American cultures on or near the Full Moon, which typically involve movement, intention setting, and consuming ceremonial grade raw cacao.
We'll welcome the September Full Moon in Virgo with a healing and heart opening experience using the powerful properties of cacao consumed in a sacred space to release negative energy and move forward with peaceful, meaningful intentions. Ashley will interweave the healing aspects of yoga, essential oils, and oracle/affirmation cards with liquid raw cacao for a liberating, intimate and unique ceremony appropriate for those experienced or new to the practice.
We'll start with an approachable yet challenging vinyasa inspired by the intention to release limiting beliefs, be present and invite new beginnings. Then sitting in a circle, we'll use essential oils and oracle cards to continue to manifest our intentions. Finally, we'll close the ceremony by drinking the raw cacao in unity to absorb it's amazing nutritional, emotional and heart-opening benefits which will manifest long after the workshop!
Optional: come with a phrase on what you are releasing and what you are welcoming, along with any crystals or journals if you feel called to bring. All experience levels, ages, and genders are welcome =)
Ashley is leading a Full Moon Cacao Ceremony on Saturday October 30th at 6:30 pm
Full Moon Cacao Ceremony includes:
Opening/Closing Circle
Cacao Drinking Ritual
Intention Setting with Essential Oils
45 min yoga flow
Affirmation Card Pull
Gift to take home
Forward to your Chicago-area friends who you want to share this sacred experience with!!! 
Investment: $60
Time: 6:30-8:30 pm
Location: Moksha Yoga
Grab your ticket here!