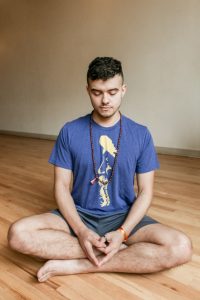 After earning a Journalism degree from Northwestern University, Brandon felt called toward spirituality; he began seeking in earnest, developing a rigorous meditation practice and attending silent retreats.  After experiencing a spontaneous awakening, or a deep shift, in his body and mind, Brandon found yoga, and fell in love with the philosophies, the physical practice, and the experiential reality that yoga offers. Brandon credits Swan River Yoga Studio in New Orleans with introducing him not only to the practice but also to the philosophic and experiential aspects of Yoga.
After attending a week-long silent retreat with Adyashanti, he quit his job and spent 18 months in Contemplation, practicing yoga and meditating for hours each day. He then returned to Chicago and found Moksha Yoga, where he completed his 200-hour training and is now a certified yoga teacher.
In Brandon's classes, students can expect not only an excellent vinyasa flow practice, but also grounding guided meditations, and a dharma talk to begin each class. He holds space for students to have an inner journey, and encourages everyone to seek answers in their own experience…all while breaking a sweat!