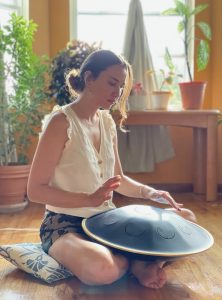 Growing up in Turkey, Gizem is from a small town in the south called Antalya. As a kid, she enjoyed making art and physical activities such as dance and sports. Graduating from art college in 2017, she received her teaching/ pedagogical degree and began teaching kids fine arts at various art centers and museums in Istanbul. Her yoga journey began in second year of college. After her first savasana, she knew that her life-long yoga journey just started. She realized that you can practice yoga on the mat and off the mat as well.
Wanting to experience different cultures, perspectives of life, and ways of living, Gizem came to the US in 2019. Taking her journey of self-discovery more deeply, Gizem completed Moksha Yoga's 200hr Foundation Teacher Training in 2021. Gizem completed Richard Freeman and Mary Taylor's Astanga Yoga Teacher Intensive in 2022. Now a Certified Yoga Teacher, she is excited to share what she is passionate about in life. Dedicated to the Astanga Yoga practice, she says, "As I began practicing the primary series, I learned how to breathe consciously, I discovered how to approach myself gently, and I explored how to slow down the drama of my mind."
Gizem says, "yoga teaches us to focus on the present moment and how to step into the unknown blindly but with limitless amount of faith. I am forever growing in my own practice and I hope to share my passion with others." In Gizem's class, you will find a joyful, liberating and exploratory approach while building strength, flexibility and balance with energetic movements. You will find a non-judgmental environment that welcomes all human conditions. She encourages her students to find inspiration and fulfillment through a regular practice of yoga. According to Gizem, cultivating inner peace and harmony is our global responsibility.
"Yoga is the journey of the Self through the Self to the Self."
-Bhagavad Gita
Preferred Charity: Donate.trees.org
Follow her on IG: ashtangizem
Click on images to view as lightbox...