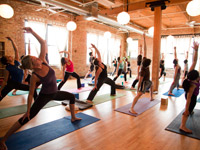 MOKSHA YOGA CENTER
(773) 235-9642
[email protected]
Location:  2528 W. Armitage Ave. Chicago, IL 60647
2 blocks west of Western/Milwaukee on Armitage
across from 90 Miles Cuban Cafe
Parking:  Free street parking usually available. East side of building labeled "tenant parking".
Public Transportation:  Blue Line Western stop; Buses 56, 49 & 73; Divvy bike stop
Rooted in classical yoga as described in the ancient Vedic texts, Moksha Yoga Center provides an interdisciplinary approach that includes asana and pranayama. Especially unique is the teachings of the ancient tradition including how to use classical/tantric techniques of bandhas, mudras, and kriyas.  Featuring classes seven days a week, we invite you to practice and experiment with multiple styles taught by skilled and intuitive instructors. Revitalize with asana, and dig deeper through our workshops with world-renowned master teachers, expert lectures whose topics range from Ayurveda to yoga philosophy, and our internationally recognized 200- and 500-hr teacher trainings. We also provide massage and bodywork, a yoga boutique, and a community to explore and expand your yoga practice.
Contact Us
Complete the following form, and we'll get back to you right away, typically the same day.