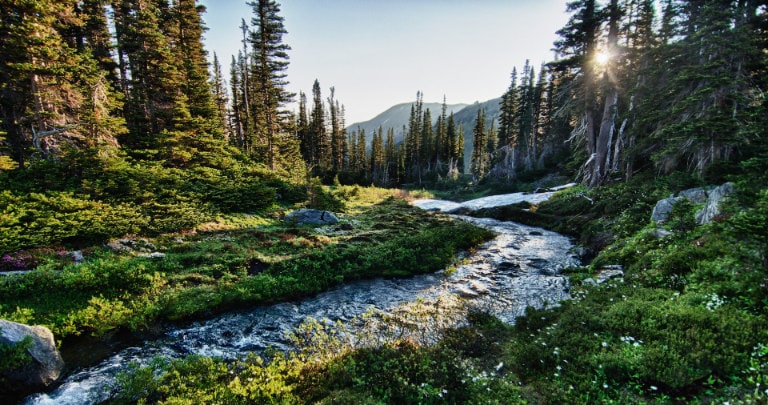 Olympic Nat'l Park Retreat
with Sarah Lindgren & Ashley Nicole Perez
August 5-12, 2023
About this trip
Settle in and join wellness professionals Sarah Lindgren and Ashley Perez for a retreat to nourish your soul. During our week together you will have the opportunity to experience daily yoga and meditation, enjoy artfully crafted meals and hikes among the mountains, rainforests and beaches of the Pacific Northwest.
Olympic National Park
Olympic NatIonal Park covers nearly one million square miles of protected land, often this park is referred to by locals and enthusiasts alike as three parks as one. Olympic NP offers everything from  rugged coastlines with tide pools,  glaciated mountains, temperate rainforests and even hot springs. During our stay we will have the opportunity to explore all three areas.
Yoga
Each morning before brunch you will have the opportunity to practice yoga with Sarah.  Morning practice will include breathwork or pranayama, meditation or dhyana and asana or poses.  We will take our time exploring on our mats an into our internal world. Sarah will be guiding you through practice each morning and will offer modifications to make poses accessible for all.  Simply come as you are and we will support you in your practice from there.
Food
Ashley will be cultivating healthful meals sourced with local fresh ingredients for you during your stay. You will be provided with a selection of teas and coffee alongside light snacks before practice.  Brunch will immediately follow morning practice, dinner will be held each evening once we return from our daily excursion or workshop offering.
More about Sarah…
I practice and teach because yoga gives permission to be yourself, uncovered, and beautifully raw.  I love the honesty of the yoga practice and how it demands self acceptance, which is truly the heart of this practice.  Beyond yoga I also lead adventure retreats which range from traditional yoga retreats to backpacking events.  These events are designed to assist you in cultivating a deeper connection with your inner wisdom, empowering you to live your life intentionally. I've been teaching yoga since 2015, gaining certification in 2016 from Moksha Yoga in Chicago and currently have over 1,000 hours of training. My mission in this community is to make the world of yoga more accessible to all through classes and events.  Showing students this is a practice to access the language of the heart not about touching your toes.
More about Ashley…
Ashley Perez is a food blogger + photographer, recipe developer, human design reader, and yoga teacher in Chicago. She helps women find food freedom, confidence and joy in the kitchen, and helps clients navigate their holistic wellness journey through various wellness programs (Restore, Expand + Ignite), group and private yoga + more! She also works with wellness brands to provide their communities with recipes and resources for living a healthier more aligned life. Ashley is passionate about helping women find approachable wellness practices, cultivate a deeper relationship with themselves, and unapologetically explore their deepest desires! She believes slowing down, being present, and connecting with your intuition is the key to embodying the highest version of yourself, and integral for making an impact in the lives of others. She loves spending her time baking, making fancy adaptogenic lattes, practicing yoga, reading, connecting with like-minded women + exploring the city with her husband, Horacio, and pitbull, Nala.
Massage
Meagan Mac will be offering massage onsite, at specific scheduled times. We will share these times with you closer to our retreat day.