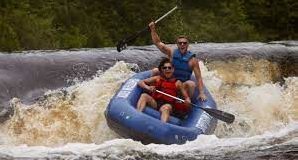 Whitewater Rafting Retreat
Whitewater Rafting & Camping Retreat
Wolf River, in the Menominee Forest – Wisconsin
Thursday, July 4 to Sunday, July 7, 2024
Embark on a one-of-a-kind yoga, rafting, and camping retreat in the picturesque beauty of the Menomonee Reservation in Wisconsin, and celebrate the July 4th holiday in a way that harmonizes adventure, tranquility, and the great outdoors.
Location: Nestled amidst the serene landscapes of northern Wisconsin, our retreat provides a breathtaking backdrop for your yoga journey. Surrounded by lush forests and pristine waters, Menomonee offers the perfect canvas for a rejuvenating escape.
Yoga Amidst Nature: Start your mornings with invigorating yoga sessions set against the backdrop of towering pines and the gentle rustle of leaves. Led by experienced instructors, these sessions will guide you through dynamic flows and grounding poses, connecting you with the natural energy of the surroundings.
Rafting Adventure: As the sun climbs higher in the sky, prepare for an exhilarating rafting adventure down the crystal-clear waters of the Wolf River. Skilled guides will lead you through thrilling level 1-2 rapids, offering both excitement and a profound connection with the untamed beauty of the river.
Camping Under the Stars: As the day winds down, settle into the tranquility of our campsite, surrounded by the warmth of a crackling campfire. Pitch your tent beneath the starlit sky and relish the sounds of nature as you drift into a peaceful night's sleep.
Nature Immersion: In addition to yoga and rafting, our retreat offers ample time for nature walks, birdwatching, and simply soaking in the serenity of White Lake. Engage in guided mindfulness activities designed to deepen your connection with the natural world.
Community Bonding: Share stories and laughter around the campfire, creating lasting bonds with fellow retreat participants. Whether you're an experienced yogi, an adventure enthusiast, or a nature lover, this retreat welcomes everyone to come together in the spirit of unity and joy.
Join us for a July 4th holiday retreat that blends the thrill of rafting, the serenity of yoga, and the magic of camping in the heart of the Menomonee Reservation. Immerse yourself in nature, celebrate the holiday with like-minded individuals, and return home rejuvenated, inspired, and deeply connected to the beauty of the great outdoors.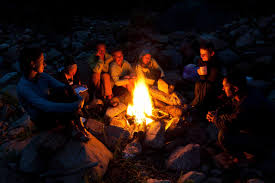 Download PDF
Whitewater Rafting
Located on the Wolf River in Menominee County, our whitewater rafting trip will take us down the Wolf River through the pristine forest of the Menominee Reservation full of birds and trees. The rafting is class 2 available for all skill levels, even the uninitiated. We will take the shuttle bus 15 minutes north to be dropped upstream with the 2 person rafts ready to go. After a 3-4 hour float and a few rapids, we arrive back at the dock near the campsite.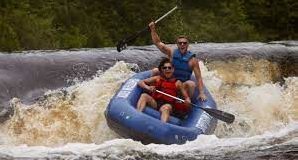 Food
Bring your own food to prepare on the campfire…1 dish to share first night, 3 breakfast, 2 lunch/snacks and 2 dinners. What to bring – click here.
Schedule
Wednesday, 7/3
come a day early for an additional fee of $20
depart Chicago by noon; arrive and set up tents before 5pm!
afternoon restoratives/pranayama/meditation
Thursday, 7/4
regular retreat weekend starts this day
depart Chicago by noon; arrive and set up tents before 5pm!
afternoon restoratives/pranayama/meditation
evening potluck (bring a dish to share, other than hummus) & campfire satsang
Friday, 7/5
whitewater rafting
afternoon restoratives/pranayama/meditation
evening campfire & Open Mic (share a song, dance or poem)
Saturday, 7/6
extended morning yoga practice
free time to hike, forest bathing, journaling, hammocking
afternoon restoratives/pranayama/meditation
evening campfire & Fire Puja ceremony
Sunday, 7/7
short morning yoga practice
depart anytime or stay an extra night!
Fee
$159 includes 4 nights camping, whitewater rafting fee and all yoga classes and sessions. Does not include transportation or food. No refunds. Extra night camping is $20. Extra fee to upgrade to cabin. Showers available for 3 quarters. Carpooling available.
Directions to the Campsite (4 hr journey by car from Chicago)…
https://goo.gl/maps/AMHSnQoB3cV7S1259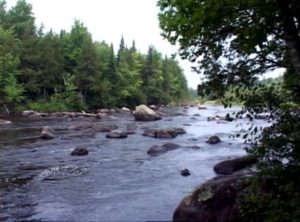 About Menoninee
The Menominee are a Native American tribe originally from the present-day Midwestern United States. In Wisconsin, they have a significant historical and cultural presence. Here are key points about the Menominee Native Americans in Wisconsin:
Location: The Menominee Reservation is situated in northeastern Wisconsin. The tribe's ancestral lands extend beyond the reservation boundaries, covering parts of Wisconsin and neighboring states.
Language and Culture: The Menominee people have their own distinct language, part of the Algonquian language family. Traditional cultural practices, storytelling, and artistic expressions play a crucial role in preserving their heritage.
History: The Menominee have a rich history dating back centuries. They are known for their resilience and adaptation to changing circumstances, including interactions with European settlers and the challenges posed by colonial expansion.
Relationship with the Land: The Menominee have a deep connection to the land, viewing it as a sacred and essential part of their identity. Sustainable resource management practices, particularly in forestry, have been a hallmark of their approach to environmental stewardship.
Treaties and Sovereignty: Like many Native American tribes, the Menominee signed treaties with the U.S. government. The Menominee Tribe of Wisconsin was recognized in 1854, and the tribe has worked to assert and maintain its sovereignty in the face of historical challenges.
Economic Activities: Historically, the Menominee were engaged in various economic activities such as hunting, fishing, and agriculture. Today, economic development on the reservation includes forestry, tourism, and cultural initiatives.
Cultural Events and Celebrations: The Menominee participate in cultural events and celebrations that showcase their traditions, dances, and crafts. These events are an opportunity for the community to come together, share their heritage, and educate others about their culture.
Challenges and Resilience: Like many Native American communities, the Menominee have faced challenges related to historical trauma, socio-economic disparities, and cultural preservation. Despite these challenges, the tribe has demonstrated resilience and a commitment to maintaining its cultural heritage.
It's important to note that the Menominee Tribe has a unique and diverse cultural identity within the broader context of Native American communities. So please remember and appreciate this culture as we camp and raft on these sacred lands. Leave no trace!