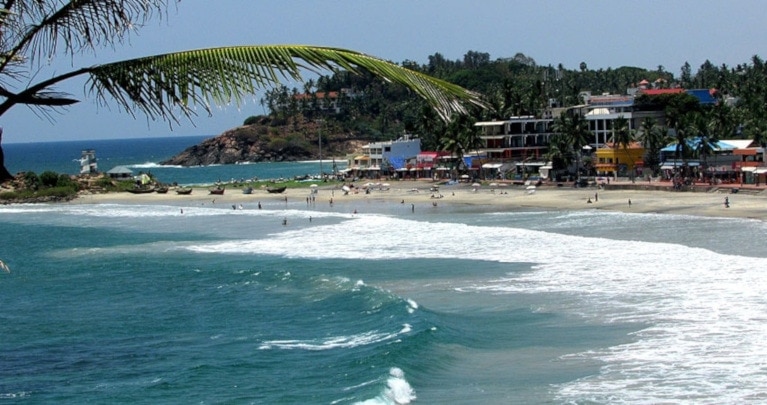 Yoga & Ayurveda
in South India
Taking time out to go on a tropical yoga and ayurveda retreat is such a special and beautiful gift that you can give yourself. It's an opportunity to reconnect to yourself, to deepen your yoga practice, to cleanse with ayurveda, to connect with like-minded people and to nourish, restore and reset the body, mind, and soul. Travel halfway around the world to the ancient culture of India, the birthplace of yoga and ayurveda, and a tropical beach paradise with the most friendly people in the world – Kovalam Beach, Kerala.
Daily Retreat Schedule…
7:30-9:30am   Yoga Practice
9:30-10:30am  South Indian Vegetarian Breakfast
10:30-11:30am  Yoga Talk
11:30am-7:30pm  Choose your track…
1) Ayurveda Treatments
2) Teacher Training
3) Excursions & Beach
Lunch & Dinner on your own
7:30-8:30pm  Pranayama & Meditation Satsang
Ayurveda Treatments…
1) Choose one of the following…
3 Day Sample Package | TBD
10 Day Treatment Regimen | approx. $400
2) Choose your appointment time…
10 Day Retreat | Budget
$949 if paid in full by October 15th
$1,049 if paid in full by November 15th
$1,149 if paid in full by December 15th
Notes

Rate is Double Occupancy.
Single Occupancy: add $190.
Each additional retreat day: $50.
Breakfast included.
Accommodations provided by various local budget hotels.
10 Day Retreat | Luxury
$1,199 if paid in full by October 15th
$1,299 if paid in full by November 15th
$1,399 if paid in full by December 15th
Notes

Rate is Double Occupancy.
Single Occupancy: add $290.
Each additional day: $80.
Breakfast included.
Note: you must choose 10 day Ayurveda treatment (separate charge) for this accommodation option.
Accommodations provided by Agaastya Heritage Pritvhi Resort.
25 Day Teacher Training | Budget
$3,200 if deposit paid by Oct 15th
$3,300 if deposit paid by Nov 15th
$3,400 if deposit paid by Dec 15th
Notes

Rate is Double Occupancy. Single Occupancy: add $450.
Each additional retreat day: $50 (budget).
Luxury accommodations (double occupancy): add $1500.
Breakfast included.
Those participating in a second round or doubling up on 200hr Teacher Training
pay an additional $600 retreat fee in addition to their teacher training tuition.
Yoga classes at Moksha in Chicago not included in this fee.

Payment

Deposit $1,000. Balance due before departure.
Payment plans available for a 10% fee.
Does not include practice classes at Moksha.
 The Retreat includes…
10 days of retreat classes and programs.
All retreat programs include…morning yoga practice, breakfast, yoga talk, evening satsang.
Excursions at cost.
Airport pick-up/drop-off between Trivandrum Int'l Airport and Kovalam Beach.
Rate is double occupancy. Budget accommodations (2-3 star hotel).
South Indian vegetarian breakfast.
One private 50 min yoga consultation upon arrival.
Two free classes at Moksha  – one before departure and one after your return.
$99 Moksha monthly membership (6 months at $99/month) upon return.
The Retreat does not include…
Airfare.
Indian Visa online (30 days $25; 5 years $80).
Lunch or dinner meals.
Accommodation upgrades or single surcharge.
Ayurvedic treatments – approximately $400 per week.
Excursions, food or transportation.
Tips, incidentals and spending money.
Teacher Training.
Additional Notes…
Pay the 10 day retreat fee then add on as many days as you like for a nominal charge.
All forms of payment accepted. Payment plans available for a 10% fee.
Moksha Members, Teachers, Trainees, and Alumni receive 20% off.
No refunds. No refunds on the retreat, teacher training, accommodations or Ayurvedic treatments.
Accommodations, schedule and itinerary subject to change.
---
Daily Yoga Practice…
Daren and guest teachers will lead a daily morning 2 hour full-scope yoga practice with a focus on Vinyasa and Astanga teaching principles. The practice includes tools and techniques for all 5 layers of one's being: asana for the physical, bandhas and breath for the energetic, mantras and visualizations for the mental, meditation for the deeper layer, and ritual and samadhi for the innermost being. Practice is designed in a multi-level format so that its accessible to all skill and practice levels. Yoga practice is followed by a traditional South India vegetarian breakfast. Following breakfast is a 1 hour yoga talk covering various aspects of yoga including koshas, gunas, bhutas, doshas, dharma, karma, tantra, sutras, sages and the third eye. The evening satsang for 1 hour includes the deeper practice of pranayama, mantra and meditation – you'll sleep like a baby after. This retreat will take you deeper into your outer and inner layers of your body and spirit.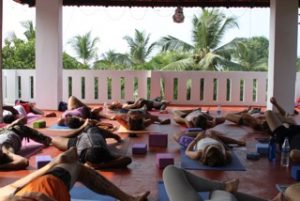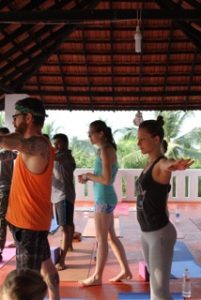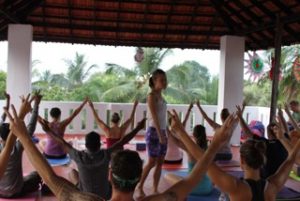 ---
Ayurveda Treatment…
In Sanskrit, Ayurveda means "The Science of Life." From the ancient Vedic culture, Ayurvedic knowledge originated in India more than 5,000 years ago. Ayurveda places great emphasis on prevention and encourages the maintenance of health through attention to balance in one's life, thinking, diet, lifestyle and the use of herbs. Just as everyone has a unique fingerprint, each person has a particular pattern of energy—an individual combination of physical, mental and emotional characteristics—which comprises their constitution (dosha). Many factors, both internal and external, act upon us to disturb this balance and are reflected as a change in one's constitution from the balanced state. Examples of these emotional and physical stresses include one's emotional state, diet and food choices, seasons and weather, physical trauma, work and family relationships. Once these factors are understood, one can take appropriate actions to nullify or minimize their effects or eliminate the causes of imbalance and re-establish one's original constitution.
Ayurveda identifies three basic types of energy or functional principles that are present in everyone and everything – vata, pitta and kapha. The practitioner carefully evaluates key signs and symptoms of illness, especially in relation to the origin and cause of an imbalance. Palliative and cleansing measures are used to help eliminate an imbalance along with recommendations that may include the implementation of lifestyle changes; starting and maintaining a suggested diet; and the use of herbs. A cleansing program, called panchakarma, helps the body rid itself of accumulated toxins to gain more benefit from the various suggested measures of treatment.
In summary, Ayurveda addresses all aspects of life — the body, mind and spirit. It recognizes that each of us is unique, each responds differently to the many aspects of life, each possesses different strengths and weaknesses. Through insight, understanding and experience Ayurveda presents a vast wealth of information on the relationships between causes and their effects, both immediate and subtle, for each unique individual.
---
Teacher Training…
Moksha's 25 day teacher training program is registered with Yoga Alliance and offers a RYT200 hour certification. The director has trained hundreds of teachers in Chicago and is known for being a teacher of teachers. You will learn yoga inside and out and from all of it's multifaceted dimensions. Click here for more information.
Moksha's 10 day advanced teacher training program is also registered with Yoga Alliance and offers 70 hours CEU toward Moksha's RYT300 hour certification. You will go deeper into alignment, sequencing, cueing and philosophy. Click here for more information. Click here for more information.
---
Excursions & Sightseeing…
We have an incredible set of travel and tourism excursions, trips and jaunts for you to enjoy throughout the season.
---
Jataya Earth Center…
Jatayu Earth Center, also known as Jatayu Rock, is a park and tourism centre at Chadayamangalam in Kerala. It stands at an altitude of 1200ft above the mean sea level. Jatayu Nature Park holds the distinction of having the world's largest bird sculpture, which is of Jatayu, sculpted by Rajiv Anchal. The park is about 29 mi away from the state capital, Thiruvananthapuram.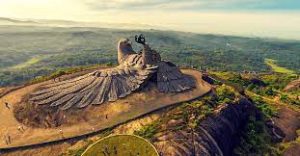 ---
Kannyakumari Temple…
Kanniyakumari, lit. 'The Virgin Princess', also known as Cape Comorin, referred to as 'The Land's End', a popular tourist destination and pilgrimage centre situated 56 miles south of Thiruvananthapuram city. Notable tourist spots include the 133 ft Thiruvalluvar Statue and Vivekananda Rock Memorial off the coast. Lying at the tip of peninsular India, bordered by 3 bodies of water – to the west by the Saudi Arabian Sea, to the south the Indian Ocean, and to the east the Bay of Bengal, on the shores of the city is a temple dedicated to Goddess Kanniyakumari (the virgin Goddess), after which the town is named.
---
Varkala Cliff Beach…
Varkala beach is the only place in southern Kerala where cliffs are found adjacent to the Arabian Sea. These cliffs are of tertiary sedimentary formation, and named by geologists as Varkala Formation. They are a geological monument as recorded by the Geological Survey of India. Water spouts and spas occur on the sides of these cliffs.
---
Trivandrum History Museum…
Napier Museum is situated on the Museum compound in the heart of Thiruvananthapuram city. Built in the 19th century, Kerala's rich cultural heritage is on display at the museum. It contains a host of historical artifacts including bronze idols, ancient mammals, a temple chariot and ivory carvings.
---
The Golden Peak & Pranayama Mountain Trip…
Ponmudi  (the Golden Peak) also known as Kashmir of Kerala is a hill station in the Peringamala gramapanchayath of Trivandrum District of Kerala in India. After an hour taxi journey up into the mountains, we will find the perfect spot in nature to practice 108 rounds of pranayama.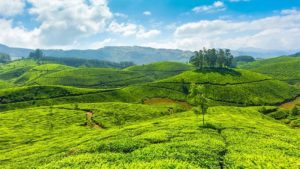 ---
Aazhimala Shiva Temple Darshan…
Aazhimala means "the mountain near the ocean" – the temple is located on rock on the edge of the Arabian Sea. Noted for its 58-ft-tall statue of Lord Shiva in the Gangadhareswara form, the massive structure with Shiva's hair flowing in the wind and holding Goddess Ganga has a charm of its own and lends a magnificent appeal to the temple. It is said that Bhimasena of Mahabharata broke a rock here and created stream to quench the thirst of Panchali.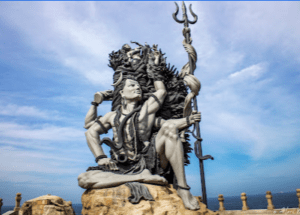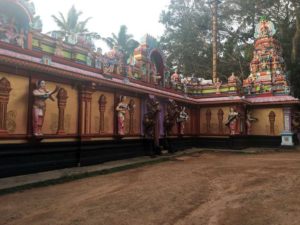 ---
Challa Shopping Bazaar, Bookstore & Spice Shopping…
Experience the local open air market specializing in spices, flowers, cashews, pictures of Gods & Goddesses, and gold.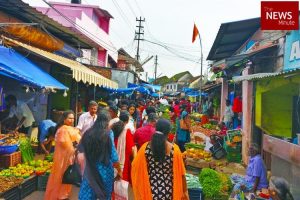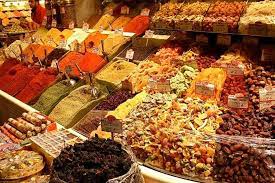 ---
Padmanabhapuram Travancore Palace…
Its original name was Perumal Kottaram (Lord's palace) and was constructed by Maharaja Marthanda Varma in 1744. The building comprises of four storeys. The ground floor was used as the royal treasury. Padmanabhapuram is the former capital city of the erstwhile Hindu kingdom of Travancore. The palace is complex inside with an old granite fortress around four kilometers long. The palace is located at the foot of the Veli Hills, which forms a part of the Western Ghats and the river Valli flows nearby.
The Murugan Temple Festival honors Kartikeya, the God of War. Participants pierce their cheeks with spears and perform dances along the parade route. Others pierce their bodies and hang from bamboo poles. An intense form of tapasya – purification of pain. This festival takes place at the end of January.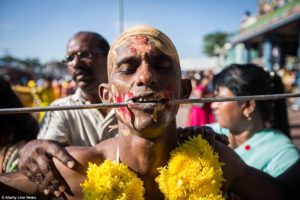 ---
Nishagandhi Dance Festival…
The NishaGandhi Dance Festival is held at the open-air Nisha Gandhi Theater housed in the renowned Kanakakunnu Palace Compound, located in the state's capital, Thiruvananthapuram. Modern dance forms such as ballet are performed along with classical dances such as Kathak, Odissi, Mohiniyattam, and Bharatnatyam. This festival takes place at the end of January.
---
Kovalam Surfing Lesson…
For those wanting to meditate in motion on the water…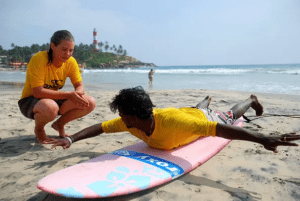 ---
Kovalam Parasailing…
For thrill seekers and those wanting to fly in the sky.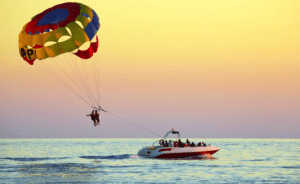 ---
Traditional Thali Homestay Meal & Gratitude Circle…
Thali, meaning plate, is a meal served on a banana leaf that includes rice, lentils, vegetables, raita (curd) and chutney. Eaten sitting on the floor with your fingers of the right hand, you'll enjoy every moment of a perfectly balanced vegetarian meal.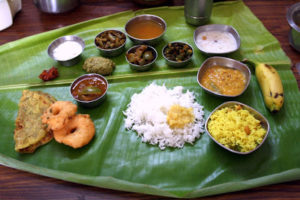 ---
Amma Amritapuri Ashram…
Mata Amritanandamayi is known throughout the world as Amma, or Mother, for her selfless love and compassion toward all beings. Her entire life has been dedicated to alleviating the pain of the poor, and those suffering physically and emotionally. Located in the small fishing village Parayakadavu on the coast of Kerala, the Amritapuri ashram (also called the Mata Amritanandamayi Math) is 2.5 hours north of Trivandrum.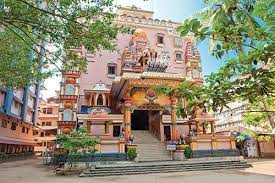 ISHA Sadhguru Ashram…
Isha Foundation is a nonprofit, spiritual organisation founded in 1992 near Coimbatore, Tamil Nadu, India, by Sadhguru Jaggi Vasudev. It hosts the Isha Yoga Centre, which offers yoga programs under the name Isha Yoga. The foundation is run almost entirely by volunteers. The word isha means "the formless divine".
Maldives Scuba Diving…