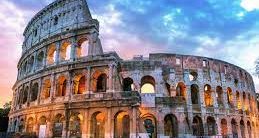 Yoga in Rome | Anima e Corpo Il Ritiro
Join us for a sensory journey in the heart of Rome, Italy for Moksha's Body & Soul Retreat – Anima e Corpo Il Ritiro. Experience a daily yoga practice, take in the sights of Rome, follow art throughout the city, enjoy a cooking class with your hostess, and many other exciting activities, excursions and experiences.
Day 1: Monday, Sept 23
Arrival at Leonardo Da Vinci (Fiumicino) airport & transfer to hotel
Il Pranzo (Lunch)
Walking Tour in the center of Rome: Spanish Steps, Piazza del Popolo, Piazza Navona, Trevi Fountain, Quirinale (Presidential palace)
Afternoon restorative yoga in the Villa Borghese park.
Sunset from Pincio.
Aperitivo and Cena (Dinner)
Day 2: Tuesday, Sept 24
Morning Yoga
Colazione (Breakfast)
Explore Villa Borghese and Galleria Borghese
Spuntino (Afternoon Snack)
Visit Trevi Fountain: Underground
Aperitivo and Cena (Dinner)
After dinner a short walk in the Coppede' neighborhood 
Day 3: Wednesday, Sept 25
Morning Yoga
Colazione (Breakfast)
Rione Monti Visit to Colosseum and Roman Forum
Spuntino (Afternoon Snack)
Pantheon
Afternoon yoga philosophy & chanting in the Villa Borghese park.
Cooking class and dinner at Antontella's residence in Rome
Day 4: Thursday, Sept 26
Morning Yoga
Depart for Italian countryside for retreat
Day 5: Friday, Sept 27
Morning Yoga
countryside activities
Day 6: Saturday, Sept 28
Morning Yoga
countryside activities
Day 7: Sunday, Sept 29
Morning Yoga
depart for Rome
end of retreat
What's included…
Accommodations (double occupancy)
Breakfast
Daily yoga programs
Guided tours and excursions with your hosts
Cooking class at Antonella's residence in Rome
What's not included…
Airfare
Museum fees
Lunch and dinner
About Antonella…
An avid runner, Antonella's yoga journey began in 2001 while training for a marathon, in order to deal with a low back pain. She has completed 20 marathons. She has found yoga to offer her relief from low back issues and inflammation and to greatly improve flexibility, overall strength and relaxation. Antonella completed her first yoga teacher training course at Moksha Yoga Center in Chicago in 2008 becoming a Certified Yoga Teacher (RYT200). Moksha Yoga is known to host a variety of top teachers from around the world where Anto met the master teacher Ana Forrest. In 2010, she completed her second 200hr teacher training course with Ana Forrest. In 2017 Anto became an advanced certified teacher completing the course at Yoga Now in Chicago. Then in 2018, Anto completed a second advanced teacher training with Ana Forrest and Jose Calarco. Her in-depth studies and advanced certifications have given Anto a deep understanding of yoga and the necessary skills to teach both beginners and advanced students alike. Antonella's teaching incorporates Forrest, Ashtanga and Vinyasa. As a lifelong practitioner, she enjoys both self practice and taking classes and workshops with other teachers and masters. She completed a 3-week long Astanga intensive with the master Astanga teacher Lino Miele in January 2023. Returning to her native country in 2021, Anto now divides her time between Rome and Taormina, a hilltop town on the east coast of Sicily (her hometown) with her husband and 11 year old son. Appropriate for all levels, her classes offer options for beginners and variations for the advanced. Inspired by the vast potential held in each of our bodies and minds, her intent is to support and guide students in their personal journey to awareness, balance and well-being.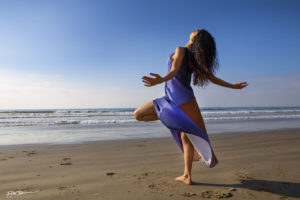 Akash Vrksasana | Antonella | Chicago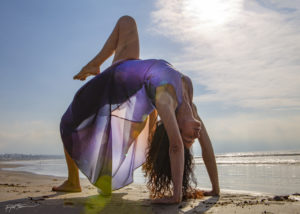 Ekapada Urdhva Dhanurasana | Antonella | Chicago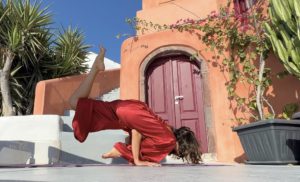 Ekapada Tittibhasana | Antonella | Sicily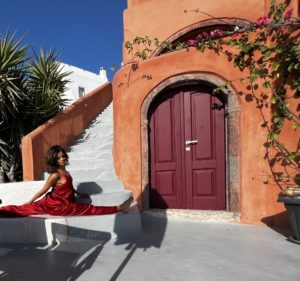 Hanumanasana | Antonella | Sicily
About Daren…
Daren Friesen is the director and founder of Moksha Yoga Center in Chicago, an independent and authentic source of yoga classes, workshops, and trainings. An enthusiastic student and passionate teacher, his challenging style of vinyasa flow incorporates the full scope of Tantric techniques, including asana, pranayama, mudras, bandhas, and kriyas. For over 25 years, Daren has taught in Chicago and the suburbs and has trained hundreds of teachers. Daren travels to South India every winter to study with his teacher, Acharya Shankaranarayana, in Mysore, South India, going deep into Vedic studies and practices. He also travels to Kovalam Beach, Kerala, South India for Ayurvedic treatments and studies with Dr. Unni of Agastya Heritage Ayurvedic Retreat. Daren recently completed his 20th retreat with the master Astanga teacher Lino Miele in Kovalam Beach, Kerala. Daren encourages students to use traditional elements and techniques to overcome the pull of opposites (duality) and to develop one-pointed attention. Through one-pointed attention, one discovers the keys to accessing true health and vitality. Daren's classes offer provocative insights and opportunities for personal growth through his unique blend of a classical yet innovative approach to practice.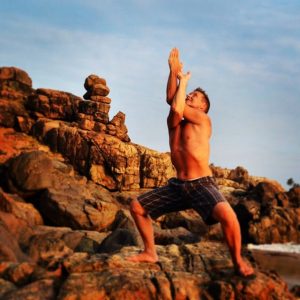 Uddiyana Garudanga Devyasana | Daren |
Kovalam Beach, Kerala