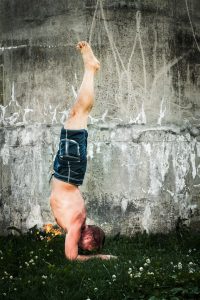 Daren Friesen is the director and founder of Moksha Yoga Center in Chicago, an independent and authentic source of yoga classes, workshops, and trainings. An enthusiastic student and passionate teacher, his challenging style of vinyasa flow incorporates the full scope of Tantric techniques, including asana, pranayama, mudras, bandhas, and kriyas. For over 25 years, Daren has taught in Chicago and the suburbs and has trained hundreds of teachers, of which over 20 have opened and run studios around the Midwest. Daren travels to South India every winter to study with his teacher, Acharya Shankaranarayana, in Mysore, South India, going deep into Vedic studies and practices. He also travels to Kovalam, Kerala, South India for Ayurvedic treatments and studies with Dr. Unni of Agastya Heritage Ayurvedic Retreat.
Moksha has hosted a variety of master teachers which have had a deep influence on Daren's teachings. These master teachers include Aadil Palkhivala, Gary Kraftsow, Shiva Rea, Seane Corn, Saul David Raye, Ana Forrest, Maty Ezraty, Tim Miller, Leeann Carey and many others. Daren's teachings are an eclectic mix and influenced by primarily Astanga and Vinyasa. He has taught since 1994 and has been practicing since 1989.
Daren encourages students to use traditional elements and techniques to overcome the pull of opposites (duality) and to develop one-pointed attention. Through one-pointed attention, one discovers the keys to accessing true health and vitality. Daren's classes offer provocative insights and opportunities for personal growth through his unique blend of a classical yet innovative approach to practice.
Click on images to view as lightbox...