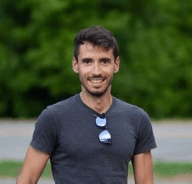 Dmytro grew up in the small town of Veselinovo in southern Ukraine and speaks both Ukrainian and Russian. His father was a personal trainer and motivated him to engage in an active lifestyle from a young age. Wrestling since the age of 6, Dmytro enjoys an active lifestyle, especially calisthenics, movement arts, and climbing. He also is fond of photography, art and trawling.
In Dmytro's first class in New York City in 2012, he was shaking intensely and found holding the poses super challenging. Amazed that after a lifetime of physical fitness and sports, he found yoga to be a provocative practice to develop a new and different approach to fitness and health. He committed himself to return to class and has been motivated ever since by the continuous challenges that yoga presents for the body and mind. Dmytro completed Moksha's teacher training program in 2017 and is a certified yoga teacher.
In Dmytro's class, your world will be turned upside down with arm balances and handstands in a guided and safe way. He wants his students to feel freedom, trust and the ability to engage in a playful spirit. His classes are known for intensity, community, and fun.
Click on images to view as lightbox...