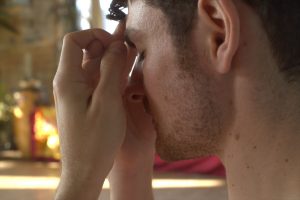 Rob Lejman states his intention for teaching yoga – "I wish to guide students toward a path of healthy, mindful living. I believe that yoga is an experiential way for people interested in optimal health and well-being to discover and actualize their full potential. The art and science of yoga is one of the oldest forms of human knowledge and gives seekers an opportunity to experience the divine within themselves and without. It is not constrained by religious dogma or the need for an intermediary. Rather, it is experienced and informed by practitioners and continues to evolve through the practices of those who explore it. By definition, yoga is as it is stated in the Yoga Sutras of Patanjali, 1.2: 'Yoga chitta vritti nirodha – Yoga is evenness of the mind'. My goal is to use my experience and my training in the traditional styles of hatha and ashtanga-vinyasa yoga to give students a practice that meets their needs and capacity, and provides the guidance for students to attain their goals and experience inner bliss."
Rob Lejman has been practicing yoga since 2009 after attending his first yoga class just months after his last college wrestling match. "Yoga would have been very helpful in my athletic career, both physically and mentally. I hope that my experience as an athlete can help me connect with people looking to improve their athletic performance, but I also think it is helpful for anyone looking to unlock physical and mental potential at any stage or arena in their life." After exploring the practice through various teachers and studios for over a decade, he decided to take the Yoga Teacher Training program at Moksha Yoga Center in Chicago, completing the program in 2020.
Expect Rob's classes to be fun, challenging, and tailored to the needs and goals of the students. In his classes, he believes in using the asanas as a way to get into the body, as opposed to using the body to get into a pose. Through commitment to a daily practice, Rob has found interesting ways to explore and actualize this approach. "As the Hatha Yoga Pradipika (ancient yogic text) states, 'success is not attained by wearing the clothes [of a yogi] or by talking about it. Practice alone is the cause of success.'"
When Rob is not teaching yoga, he is spending time with his wife, reading, hiking, playing music, drinking tea, or teaching AP Human Geography at Chicago Bulls College Prep (probably in that order). As an assistant baseball coach at the High School, he has been teaching athletes meditation and mental skills as part of his coaching method for years, and the athletes themselves have credited these skills as essential to the team's 3 Noble League Baseball Championships in a row.
Click on images to view as lightbox...