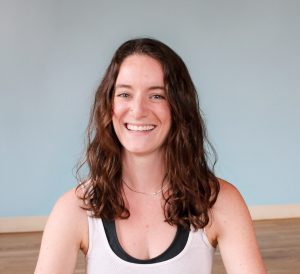 Jessica Ausman is a certified yoga instructor and student who uses asana, pranayama, meditation, mudras, vinyasa and alignment to encourage and develop flexibility, strength, and balance. Through awareness of the present moment, ekagrata (single-pointed attention), vairagya (the practice of letting go) and gratitude, Jessica aspires to use yoga to attune the self to its most authentic nature with the belief that this inspires extraordinary transformations and growth in all areas of one's life.
In addition to yogic philosophy, Jessica also studies biology and child development – she loves to investigate and experience life! She is a loving dog-mom and an occasional summertime "roadie" following some of her favorite bands across the the US.
Jessica completed her 200-hour certification at Moksha Yoga Center, where she currently teaches a slow flow & restorative class. In this class, release stress and anxiety by practicing at a slower, meditative pace and engage in passive, long-hold, prop-supported asanas, which allow muscles and fascia to deeply relax. See you in class soon!
Click on images to view as lightbox...