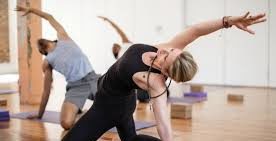 Style Series | Vinyasa
Vinyasa Yoga | Style Series
April 15, Sat, 1-3:30pm
with Daren
Learn about teach of the styles of yoga offered at Moksha in this 6 week series.
In this workshop introducing Vinyasa Yoga, learn about the history, origins and principles of vinyasa flow, including breath synchronized movement, Astanga adapted principles of bandhas, breath and dristi, and creative sequencing and pose variations. Unlike many other styles, this method has no guru, no one school or teacher. What are the benefits and drawbacks of a leaderless system?
This workshop includes a discussion and description of Vinyasa Yoga, a ceremonial opening, a Vinyasa Yoga style 75-90 minute practice, and a closing question and answer.
Taught by Daren Friesen.