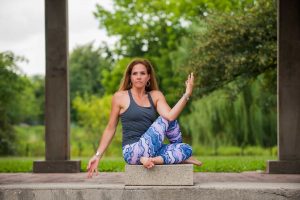 First introduced to yoga at the nimble age of twelve, through the years, Aimee continued to return to the mat to heal and experience the beauty of transformation that yoga offers. Aimee is designated as E-RYT 500 and YACEP (continuing education provider) from Yoga Alliance, and practices as a highly trained, certified Yoga Therapist accredited with IAYT. Aimee works with individuals and small groups as a Yoga Therapist in the Viniyoga tradition, having graduated from Yoga Well Institute after many years of study with Chase Bossart. She also studies weekly with her Vedic chanting teacher, Ms. Suhasini Krishnan at Krishnamacharya Yoga Mandiram in Chennai, India, is mentored by Laura Jane Mellencamp of Yoga Among Friends, and continues to pass along the wisdom and healing that this traditional classical yoga offers. A perennial student, both in life and the classroom, in her practice, Aimee offers Ayurvedic Counseling and is completing the Ayurvedic Practitioner with Kerala Ayurveda Academy, as well as nearing her completion of their Pancakarma Technician Program.
Dedicated to the idea that one may experience sukha (good space) and encouraging her students to explore their own place and dharma on this earth as they find their breath and ease, Aimee is grateful for the gifts of Yoga and Ayurveda and passionate about passing along the ideas, traditions, and philosophy. She teaches not only the physical movement of yoga, but explores the more subtle realms of breath, mind, spirit and inner space, and how these connections can help us to find balance, joy, and clarity in our lives.
Click on images to view as lightbox...