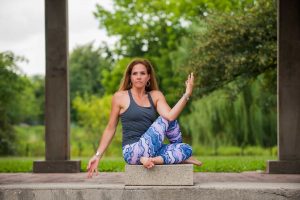 First introduced to yoga at the nimble age of twelve, through the years, Aimee continued to return to the mat to heal and experience the beauty of transformation that yoga offers. She completed her 200 hour training, and in May of 2013, earned her 500 hour certificate from Moksha Yoga Center, where she has had the privilege of continuing her studies with the wealth of visiting master yoga teachers. She maintains her E-RYT 500, and is currently working toward her certification as a yoga therapist under IAYT accreditation.
A perennial student, both of life and in the classroom, Aimee continues her studies and regularly attends workshops and classes, specifically with teachers following the architecture as promulgated by the tradition of Krishnamacharya, and specifically Mr. Desikachar. She also honors her time learning, listening, and practicing under the watchful eye of the inimitable Gabriel Halpern of The Yoga Circle, and is completing her coursework in Principles of Yoga Anatomy with Leslie Kaminoff of The Breathing Project. Aimee has earned other healing accolades and certificates, including, Prison Yoga Training with James Fox of the Prison Yoga Project, and Master Level of Reiki in the Usui System of Natural Healing.
Dedicated to the idea that one may find many facets of sukha (good space) and encouraging her students to explore their own place and dharma on this earth, Aimee continues to perform service work, teaches karma classes around the city of Chicago, Yoga for Vets, and yoga for survivors of trauma working through recovery one posture at a time. Grateful for the gift of yoga and passionate about passing along the ideas and traditions, Aimee weaves the spiritual, mindful, soulful healing practice into the asana, and while promoting all eight limbs of Classical Yoga, only asks her students to take what they want and leave the rest.
Click on images to view as lightbox...