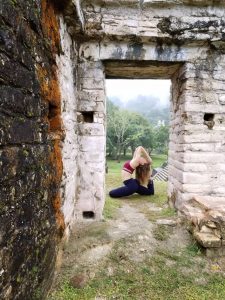 Elizabeth grew up in Wisconsin where she attended university and studied Languages and Cultures of Asia. Learning about different perspectives, beliefs, and lifestyles, she was eventually bit by the travel bug, which led her to international volunteer and work opportunities. Through those opportunities, she learned to appreciate all that can be learned by stepping outside of one's comfort zone. Elizabeth continues to enjoy learning from different cultures and challenging her perspectives.  She's keen on promoting acceptance and understanding through yoga.
Since 2011 Elizabeth has practiced several styles of yoga such as Hatha, Ashtanga, and Kundalini. A knee injury brought her to a yoga/Pilates fusion class as a means to rebuild strength so that she could return to practicing Tae Kwon Do. After some time, she fell in love with yoga and set off to Rishikesh, India to complete her first teacher training in 2014, and then trained and graduated in 2018 under Moksha's Foundation Teacher Training program. The stability, ways of thinking, and lifestyle that she has learned from yoga are things that she hopes to share with others to help them realize their own potential and build confidence. She hopes to promote self-wellness, acceptance, and understanding through yoga.
The asanas that we practice throughout class are thoughtfully balanced to generate an overall feeling of well-being by the end of class. Expect a moderate pace with plenty of movement since this is a vinyasa 1-2 class! Elizabeth aims to empower students with tools that they can apply to life away from the mat.
Click on images to view as lightbox...